L 63 Mill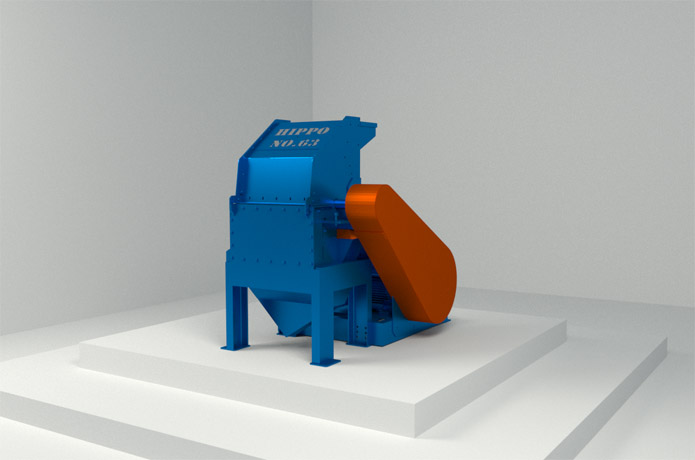 Rotor speed : 2,200-2,400RPM
Suggested speeds are as follows for best results on the milled product, as well as for the air transport system to work optimally
With an intake opening able to accommodate rectangular balls of hay or alfalfa the L63 also has a shredder option for round bales.
The L63 is an industrial mill designed for 24/7 operation and for heavy duty cycles.
It has a 75mm special steel shaft with 16 beater centres and 32 tips if it is elected to string only one tip per beater centre, otherwise 64 tips.
The machine is, like all Hippos, a bolt together mill with precision cut mild steel plates and a specially manufactured Bennox steel back plate where the most wear on the machine is. The back plate may be replaced when worn. The only difference between the L63 and the Mammoth and the other Hippo mills, is that these two mills are not constructed from cast iron.
The mill is routinely used for milling wood and waste and all manner of difficult products and products requiring heavy duty cycles. It is even used in milling down aluminium! The mill is also used in milling down hard African invader bush prior to briquetting or in making compost. With maize and at 1.6mm screen, it would reach a capacity of 3.5 tons per hour with its 55kW motor.
The outlet is normally custom designed and can be used with an air extraction system or can discharge directly into a conveyor. An air transfer system normally enhances production due to the product being extracted quicker from the mill. The product is sucked through a cyclone and discharged below the cyclone through a rotary valve with only a small portion of very fine dust emerging from the blower. In environmentally sensitive cases, a self-cleaning dust manifold with the required number of filter bags follows the blower, thus eliminating all dust from the environment.