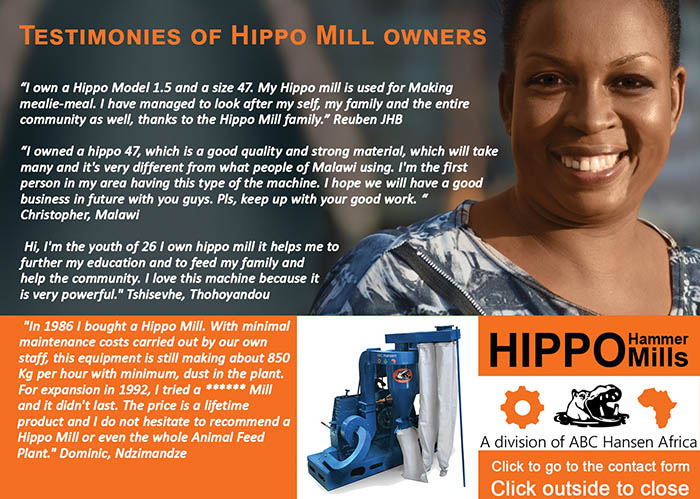 The DESIGN of the HIPPO HAMMER MILLS is unique in that there are NO CHOPPING KNIVES, as the material is being fed directly onto the tips of the rotating hammers in the direction in which the hammers are rotating. The rigid beater centres, each with replaceable tips, makes up the rotor. The screen is located in the bottom half of the hammer mill housing and covers an arc of approximately 180°. The milled material is transported from the discharge of the mill housing by means of a separate four-bladed fan mounted on the same shaft as the rotor and delivered to the cyclone and two-way bagging attachment. A wide range of alternative SCREENS is available, all of conventional design. Screens are be supported as on the larger mills such as the MAMMOTH and L63.
The outstanding feature of all mills is its CAST IRON PLATES, all BOLTED TOGETHER. This allows for EASY REPAIR should a casting break or crack after many years of milling or by accident. NO WELDING between plates is used, therefore avoiding stress or vibration cracks, often prevalent in lesser quality hammer mills made of regular mild steel plates. The back castings, against which most of the actual milling takes place, are REPLACEABLE, TOUGH and TEXTURED castings for EFFECTIVE milling.
In the case of the MAMMOTH and L63, all parts are still BOLTED TOGETHER while LAZER CUT from CARBON STEEL. Back plates and all wear plates of BENNOX STEEL are fitted on these models. All mills are supplied with, or without, motors and base frames. Diesel options including diesel engines, base frames and anti-vibration mounts, are supplied.
Mills are either supplied with BLOWER, CYCLONES and BAGGING attachments, or to discharge into bags or air conveyance of other conveyance systems directly except the BABY MILL that only has a bagging option. MAMMOTHS and L63's are normally ordered with special negative pressure pneumatic discharge systems that includes a fan, cyclone, ducting and rotary valve and optionally, a dust manifold.
All HIPPO MILLS are being manufactured to HIGH PRECISION STANDARDS while parts on older mills are also supplied. Parts not cast are LAZER / PLASMA CUT to EXACT TOLERANCE. We can usually supply parts of mills ORIGINALLY manufactured in 1929 when the first HIPPO was built.
HIGH QUALITY BEARINGS are used on all mills and for industrial use, lubricators can be included as an option. Every Hippo that leaves the factory would be lubricated with quality synthetic lubrication and it is suggested that such lubrication be applied throughout for longer bearing life.
HIGH TENSILE FASTENERS are used on all machines.
HAMMER TIPS are LAZER CUT from durable BENNOX steel as a standard. HARDOX or ROCLAST steel tips are optionally supplied.
Uniquely a 100mm x 150mm x 20mm MAGNET is supplied FREE OF CHARGE with each mill and fitted into the feeding hopper thereby isolating harmful tramp ferrous items before entering the mill and damaging the screen. The magnet must be cleaned regularly and acts as a final check only.
DIRECT-ON-LINE OR STAR DELTA OR SOFT STARTERS with a standard 10 meters of trailing cable can be included with each mill and is recommended so you can just plug and play and know your motor is adequately protected.
Other items normally required with a mill include a BAG CLOSING MACHINE and thread as well as a PLATFORM SCALE, all of which can be included at a very favourable price to get the miller going.
All mills are tested with grain prior to shipping and all Hippo mills have a 12 MONTH WARRANTY on all except electrical and wear parts. As from 2015 a 3 YEAR UNLIMITED WARRANTY on all non-rotating cast iron parts for milling grain and feeds, no matter how many hours are milled. In three years all other welded mills would already have fallen apart in a 24/7 operation, guaranteed!
IS THERE ANY REASON WHY NOT TO BUY A HIPPO?